June 17, 2010--- Please come and join us, the Alumni of Lycee Technique Vientiane and Lao German Technical College, for the Baci & Reception for Mr. & Mrs. Thipphakone Sananikone who recently come to visit the United States from Germany. Mr. Thipphakone was our former teacher at Lao German Technical College. This Baci and Reception will be held on 26 June 2010 at 10:30A.M. at: 1537 Marazzi Lane Ceres, CA 95307

For more information, please contact:
Sipaseuth Boutsingkhone Cell (209) 450-7028

Boutdy Norphienkham Cell: 209-471-3029
Oct. 20, 2009---
From the majority of response of our alumni, we have decided to hold our Reunion in Las Vegas, Nevada on 31 July 2010. Please prepare to come to this Reunion and make sure that you mail us the registration form along with appropriate registration fees before 30 March 2010. For more information, please check this web site under "News" Section or contact us through the phone # and e-mail below. Thank you.
Khamkeo1@hotmail.com or write us at:
Kongkeo James Phetphouvong
4348 N. Cedar Ave. Fresno, CA 93726 USA
Tel: (559) 225-2143
or (559) 341-9795
Off: (559) 233-0139
Thank you.
Khamkeo Winslow & Kongkeo Phetphouvong
---
June 27, 2009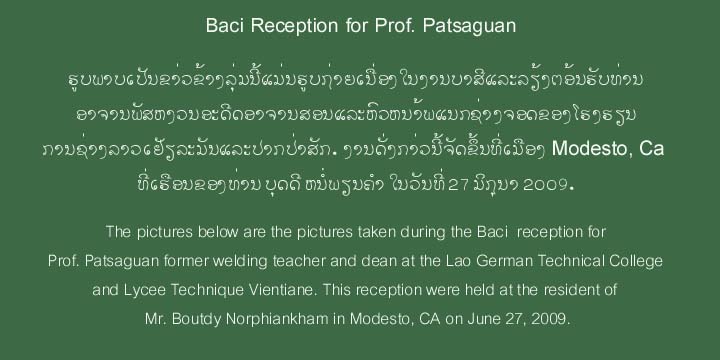 ---

Open Invitation: June 27, 2009